Kill The Crowd! Kill The Crowd! Kill The Crowd! is the constant chant you get from fans when Montreal's aggressive, hilarious, heavy and bloody five-piece Dark Century take the stage and inject a party of trans fat, bacon and moshing fun times (see live video of bacon throwing). No wonder the band was one of the two finalists at the En Route To Heavy MTL Battle of the Bands in 2012, winning their spot to play on Canada's largest metal fest along with sharing the stage over the years with such established acts as Aborted, Misery Index, Quo Vadis, Anonymus, Rose Funeral, Exhumed, Fleshgod Apocalypse, Goatwhore, Origin, The Faceless, Battlecross, Erimha, Fuck The Facts to name a few.
L-R – Erik Evans – Guitar / Leather King – Vocals / Martin Gendreau – Guitar / Tommy Beliveau – Bass / Alexis Serré- Drums (Photo Credit: Leonardo Lamela Denucci)

Welding death, thrash, grind and hardcore, Dark Century returns in 2014 with their sophomore album 'Murder Motel' to follow up 2009's debut 'Days of The Mosh'. Produced by one of Montreal's most respected metal producers Chris Donaldson (Cryptopsy, Mythosis, Erimha, The Agonist, Derelict, Neuraxis), 'Murder Motel' is 11 tracks of fury that attacks with vicious lyrics in both English and French, heavy speed demon guitars, pummelling drums accompanying by pounding bass force and ear grind wrenching screams.
"This CD is for the moshers; it grooves, it's alive and it's breathing bacon-breath in your face. The writing process for MURDER MOTEL was extensive and well thought-out, but this time we feel we've been able to spit out way more of what this band is all about. We are energy, violence and humour incarnate. So it's right there, guitar solos now included!! Delivered in one package for the world to munch on cholesterol-filled foods while they listen to it.
Some previous subjects are revisited just as much as some new short stories have risen to give fresher flavors to our greasy art. Be ready to get pounded, blasted, shredded and pecked alive by zombie birds because our sophomore effort release is no serious matter. It's f***ing hilarious!" comments vocalist Leather King.
The band released the first single and video 'Kill The Crowd', which can be viewed at the following link: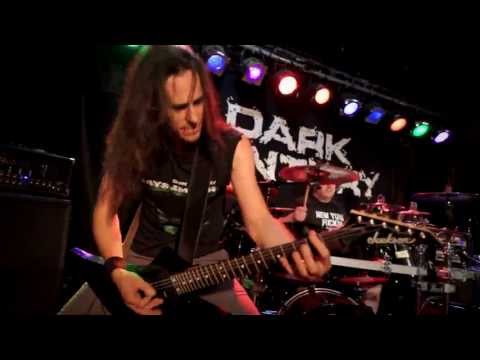 "Dark Century promises madness for moshers" – Here NB
"Très énergique, ca rentre au poste! Vous allez faire vendre pas mal de bières." – Dan Mongrain – Voivod
"Really fuckin good good good!" – Jeff Waters – Annihilator
"Unpredictable and Dangerous" – Jason Rockman – Slaves on Dope / CHOM 97.7 FM
"Corrosif, pas de niaisage!" – Bang Bang Blog
"Really heavy set, amazing" – Mikey Heppner – Priestess
"Awesome crowd interraction" – Paul Ablaze – Blackguard
"They bring the fucken Party!" Jamie O'meara (music writer – Gazette)
[Download Album Lyrics] Track Listing: Murder Motel 1 – In Our Veins 2 – Murder Motel 3 – Torticolis 4 – Ice Breaker 5 – Kill The Crowd 6 – Dead Birds 7 – Trio du Bûcheron 8 – Cholestérol 9 – Chloroforme 10 – Mosh Test Dummies 11 – Gore On My Snare
Album Credits: • All songs performed by: • All songs written by: Martin Gendreau • Produced by: Martin Gendreau & Christian Donaldson • Mixed by: Christian Donaldson • Mastered by: Christian Donaldson • Single released: Kill the Crowd
Album Band Line Up: Leather King : Vocals Steve Burns : Drums Francis Lafrenière : Bass Erik Fernet-Evans : Guitars solo Martin Gendreau : Guitars
Live Band Line Up: Erik Evans – Guitar Alexis Serré- Drums Martin Gendreau – Guitar Tommy Beliveau – Bass Leather King – Vocals
Live Video – Viande Froide – Heavy MTL 2012 – http://youtu.be/ktJH0coloSs
Live Video – Time 2 Bleed – Heavy MTL 2012 – http://youtu.be/NOSl55e1bL8
Music Video – Viande Froide (2011) – http://youtu.be/aTYgF71iKVk
Music Video – Muncherz (2010) – http://youtu.be/PlmdXO6BwXs
For more info, please visit the following links:
Official Website: http://www.DarkCentury.ca
Facebook: http://www.facebook.com/darkcentury
Twitter: @DarkCenturyBand
Bandcamp: http://darkcentury.bandcamp.com/album/murder-motel
iTunes: https://itunes.apple.com/ca/artist/dark-century/id668790028
IF Merch: http://www.ifmerch.com/fr/search/dark+century