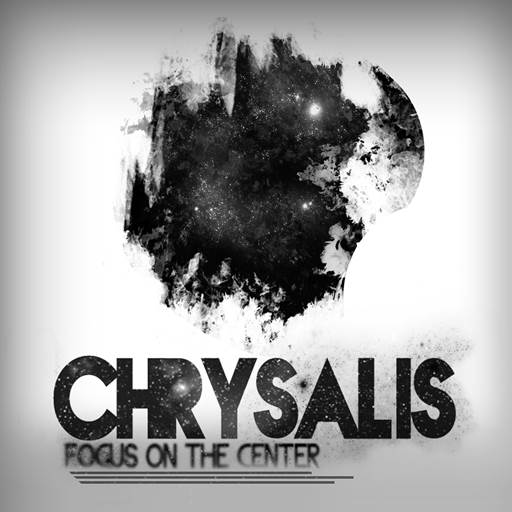 Some may call them "veterans" of the Southern California rock and metal scene, while others may only just be discovering experimental hard rock group CHRYSALIS, who are back and ready- after a brief hiatus- to release their first musical offering in almost seven years. Focus On The Center hits stores on February 11, 2014 via independent release. You can pre-order Focus On The Center via iTunes now at this link.
Boasting an inspiring and eclectic sound that sets them apart from their contemporaries, CHRYSALIS will appeal to fans of various rock, hard rock, and metal sub-genres. Focus On The Center was recorded by John Miller and Kris Comeaux (Red Jumpsuit Apparatus, Lorene Drive), produced by John Miller, and mixed/mastered by Danny Concho (formerly of The Waiting Hurt).
The Focus On The Center artwork (created by CHRYSALIS vocalist, guitarist, and keyboardist Jesse Elledge) features a tribute to Jeff Davis, former singer of Lindbergh Skies, who died of an overdose while it was being recorded. The band felt it essential to honor Jeff, as he was not only a close friend, but worked with Jesse to develop some of the vocals for Focus On The Center. The band released the song 'Instant Silence' (a departure from their traditional sound) on December 21st to commemorate the one year anniversary of Jeff's passing. The song is dedicated to him.
CHRYSALIS formed in Barstow, CA in 2003, with a current line-up of Jesse Elledge (vocals/guitar), Billy Norris (drums), Jared Sturgis (bass), Noel Castillo (keyboards), and Chris Norris (guitar). In 2006, CHRYSALIS released a full-length, self-titled symphonic metal influenced album at the height of the emo and post-hardcore scene. The 2006 release not only charted as one of the top all time sellers in the Gothic Metal genre on CDbaby, but also found a rabid foreign audience as streams in Europe steadily increased.
This notoriety landed the band endorsement deals with Ed Stone Rockwear (once touted by Trivium, Lamb of God, etc.), Soultone Cymbals, and a licensing deal with Audiosocket Music. Carving out a niche following due to persistence and touring, CHRYSALIS eventually transcended the trends of their local scene and spread their music beyond Southern California.
In addition to heightened sales, CHRYSALIS earned a spot on the Vans Warped Tour in 2009. Following the tour, the band shared the stage with the likes of Agent Orange, TSOL, A Day to Remember, Powerman 5000, Fear Before, Heavy Heavy Low Low, and The Apex Theory.
CHRYSALIS is:
Jesse "Yessi Burton" Elledge – Vocals, Guitars, Keys
Chris Norris – Guitars, Vocals
Noel Castillo – Keys/Synth
Jared Sturgis – Bass
Billy Norris – Drums
CHRYSALIS online:
www.ChrysalisBand.com
www.Facebook.com/ChrysalisBand
www.Twitter.com/ChrysalisBand
www.Youtube.com/ChrysalisMusic